Our Mission:
To be a partner that connects companies to society and Japan to the world through the interactive communication.
Our Vision:
To be a partner that creates value with clients for the area of  Travel, Marketing, and IT.
Core Competence:
Bluemoon Marketing offers its services to clients in Tourism/IT-related industries, or to those who run global businesses. Supporting clients through web marketing and international online marketing research, we put special focus on the clients' perspective, flexibility, and building long-lasting trust.
The Origin of "Bluemoon"
Bluemoon Marketing derives its name from the term, "blue moon", which can be defined as either 1) a moon that actually looks blue or 2) a situation where there are two full moons, as opposed to one, in a single month. The term takes on a further idiomatic meaning, "something that rarely happens", because a blue moon, created by the spiritual combination of the moon's wax and wane and the calendar, only happens once in a few years.
Bluemoon Marketing envisions providing something that rarely happens, new value for clients, frequently, thus creating happiness.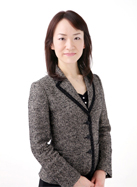 Message from CEO
After graduating from university with a major in tourism, I started my career in 1995 working at a travel agent. After a few years, as the Internet gradually came to be used in our daily life, I came to believe that it would change the shape of the tourist industry dramatically. At that time, Online Travel Agencies (OTA) were starting to take a leading industry role in the U.S. I become very interested in this, and therefore I went to the U.S to work as an intern.
During my one-year stay in the U.S., I learnt the American way of viewing work as, "working for the job rather than working for the company". After contemplating very deeply the question, "what job do I really want to engage with?" I decided that 'marketing' was my answer. Although media and communication tools change over time, the core value of marketing, or what makes clients happy, never changes. I believe that this value is in common with the reason why I chose my first career path-a desire to help as many people as possible be happy through travel.
Supported by the news of the Tokyo Olympics in 2020, inbound tourism has finally received its due attention in Japan, which until now has been lagging behind other countries. Long having engaged with the tourist industry, I am very pleased that many tourists from all over the world choose Japan as their destination. Based on the experience and network that I have built, Bluemoon Marketing will put additional focus on marketing support in the area of inbound tourism.
I strongly believe that whether domestically or overseas, meeting and connecting with people is the most important part of work. Valuing every connection that we have made or will make, Bluemoon Marketing will do its utmost to support your business.
Ayako Noda
Founder and Representative Director (CEO)
Bluemoon Marketing Inc.
Company Name
Bluemoon Marketing Inc.(R)
Founded
July 7, 2010
Address Contact
1-10-11-10F, Shiba-daimon, Minato-ku, Tokyo 105-0012, JAPAN
TEL: +81 (0)3-6880-9121 *English Available
E-mail:

Contact Form

MAP
Access MAP (Google Map)
CEO
Founder and Representative Director (CEO): Ayako NODA
CEO Profile
After working at a travel agent in a railway company (JR-EAST), arranging both domestic and international travel, Ayako Noda became an intern at an airline company in Washington D.C.
Returning to Japan, she worked in marketing for a European-based global distribution system (GDS) and the IT department of a travel agency. In 2006, she took another post that was mainly in charge of B2B IT companies at an Global PR consulting firm.
In April 2008, she enrolled in the Graduate School of Business Administration for an MBA at Rikkyo University. After graduating the course in March 2010, she established Bluemoon Marketing Inc. in July of the same year.
Main Services

Marketing and PR support for Tourism/IT-related industries
(Target area: within Japan and overseas-to-Japan)

Comprehensive marketing support with a special focus on PR for Tourism/IT-related industries, as well as marketing research and PR support for companies outside Japan who are aiming to enter the Japanese market.

Marketing support for inbound tourism
(Target area: Japan-to-overseas)
IT-oriented marketing support including a basic omnibus study that allows one question to be asked for only 30,000 yen, and web marketing.
Marketing support with a special focus on Spain
(Target area: Spain-to-Japan and visa versa)

Comprehensive marketing support between Spain and Japan based on web marketing, utilizing a wide-ranging network in Spain.

IT-related services (Coming Soon)
Tourism-related research and writing
Other business in the above areas

Research Studies

Noda[2010] An Assessment on Determinants of Customer Adaptation Level in Services Provided by Travel Agencies
– How International Travelers Select their Booking Interfaces-
Master Thesis: M.B.A., Rikkyo Graduate School of Business Administration
Conference Presentations: Japan Association for Consumer Studies[2010]

Strategic Partners

Con-Sentido Marketing Solutions S.L.(Madrid, Spain) since 2011.1
ascenda Inc. (Tokyo, Japan) since 2011.4
Cint AB (Stockholm,Sweden) since 2013.12