"Hello Kitty Land" hosts traditional Japanese "Summer Festival" with the largest in-door illumination in Japan.
Sanrio Puroland, also known as Hello Kitty Land, will host the "Summer Festival in Sanrio Puroland" open from July to September. Surrounded by their favourite Sanrio characters Hello Kitty fans are able to participate in a Japanese festival, themed "Summer Illumination", the largest illumination event in Japan with over half a million light bulbs.
In addition the company launched a mobile website, available in 5 languages, using 'Nonverbal Kawaii Communication' geared to foreign tourists visiting Japan.
Tokyo, 20th June, 2017 — Every year in the summer, traditional festivals, called matsuri, are held in many regions of Japan. Embracing the spirit of Japanese matsuris, Puroland (http://en.puroland.jp/), the mecca for Hello Kitty fans worldwide, has created its own summer festival featuring its much loved characters, such as Hello Kitty and My Melody.
From Saturday, July 15th to Sunday 3rd September 2017 visitors of the in-door theme park Puroland, can choose between the "Daytime Character Festival" and the "Night-time Illumination Festival" offering two different styles of matsuri both of which are open all day long.
Lead by Hello Kitty and the character Ennichi* the "Daytime Character Festival" offers the pop illumination show "SPARKLE" as well as many stalls with special items around the popular characters such as Hello Kitty and Gudetama. It also includes the "CINNAMOROLL Bon Dance Festival (Bon Festival**)" which invites everyone to join in dancing with the characters, giving a taste of the unique Puroland festival style.
During the "Nighttime Illumination Festival", the Ennichi space and main area are transformed into a mystical space full of light creating a romantic atmosphere. Starting with a Taiko Drum Performance the space is flooded with colours produced by half a million lights, the largest amount of lights used in Puroland history. The "Nighttime Festival Marching Parade" again invites visitors to sing and dance along with the characters.
Kentaro Kawai of Sanrio Entertainment's Puroland Sales Department states,
"Our summer festival is a much loved and popular event at Puroland and always features exciting new shows. As the number of foreign visitors per year increases we would like to offer them the unique experience of a traditional Japanese Matsuri but with Sanrio characters. This is something special and only possible at Puroland. We subsequently launched a multilingual mobile site for our international fans making the communication easier."
Furthermore, for the first time ever, Puroland has used crowd funding as a way to co-create this summer festival together with our visitors. Sponsors will be able to choose from a range of personalized presents including "name plates for a sponsors' wall" and "paper lanterns" unique to the summer festival.
– Ends –
*Ennichi : A day to have a special relation with a particular Japanese deity. It is believed that visiting a temple or shrine on this day will bring great fortunes. Various food stalls are set up and the site is teeming with visitors.
**Bon Festival : Generally held during the Obon (honouring the spirits of ancestors) period in August, it is a festive dance performed to instruments such as traditional taiko drums.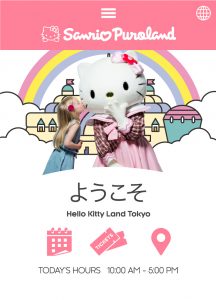 On June 20th, 2017, Puroland launched its multilingual mobile site which provides content in English,
Traditional Chinese, Simplified Chinese, Korean and Thai.
Based on the concept of "Nonverbal Kawaii Communication" it aims to answer questions from first time visitors
giving easy-to-understand information regarding access, events as well as the latest news etc, using illustrations and icons.
It also provides information on photogenic spots for Instagram users.
Notes to the editors:
About Sanrio Entertainment / Sanrio Puroland
Sanrio Puroland, operated by Sanrio Entertainment Co.,Ltd, is also known as 'Hello Kitty Land', a theme park to meet and experience its much loved Sanrio characters including Hello Kitty which enjoys worldwide popularity. Considered the "Mecca of Sanrio characters", the park draws great numbers of fans from around the world.
Located in the outer districts of Tokyo, Sanrio Puroland is an all-in-door theme park visitors can enjoy regardless of the weather. Sanrio Puroland also runs an outdoor theme park, Harmonyland, located in the Oita Prefecture in Kyushu.
More information about Sanrio Puroland is available on http://en.puroland.jp/
Contact Details for the Media:
Please contact us via Email at (SET@bluemoonmarketing.jp). (English or Japanese)
We also accept requests and adjustments for coverage throughout the year.
Contact information 
Sanrio Entertainment Co. Ltd. Overseas PR Agency
Contact: Maaya Kinoshita / Ayako Noda, Bluemoon Marketing Inc.