Hello Kitty Land Tokyo hosts its first "Halloween-Cosplay" party
Hello Kitty Land Tokyo has launched its special autumn event, the "Puro Halloween Party", which will be running for a limited time only until October 31st. The event, themed "Cosplay during the day! Scream at night!", combines trendy Japanese cosplay culture with popular Halloween practices in two entirely different settings aimed to engage visitors of all ages.
Tokyo, 13th September, 2017 — Sanrio Puroland (http://en.puroland.jp/), better known as Hello Kitty Land Tokyo, has launched a new event for its worldwide fan base. Starting from Friday 8th September until 31st October 2017 Hello Kitty Land will host the "Puro Halloween Party" as its special autumn event this year.
In recent years Halloween celebrations have been on the rise also in Japan. On October 31st and weekend leading up to it, costumed children and adults gather in Tokyo's downtown areas such as Shibuya, Harajuku and Roppongi to parade and celebrate together.
As with previous events, Hello Kitty Land will give it a special "Japanese touch" combining Halloween with elements of the increasingly popular Japanese cosplaying culture.
In order to offer visitors engaging and varied activities Puroland's in-door theme park has designed parallel running daytime and nighttime events titled "Cosplay during the day! Scream at night!".
The daytime event offers Halloween themed attractions with characters including Hello Kitty and My Melody cosplaying as witches and ghosts. Cosplay merchandise showing images of Sanrio characters and face stickers will be available for purchase. Visitors are invited to dress up and take memorable Halloween pictures with their favorite Sanrio characters.
By contrast the nighttime event has a completely different atmosphere. Hello Kitty makes appearances as "Ghost Kitty" and "Vampire Kitty". Furthermore, during the parade, which is open for guests to join in, "Cinnamoroll Ranger" and "Puro Ranger" teams including Hello Kitty and My Melody, will fend off "ghosts" with the help of guests.
For the duration of this Halloween event, the Hello Kitty Land food court and restaurants will offer exclusive Halloween inspired menus, such as "Cinnamoroll Ranger Curry" and "Purin's Halloween Party Parfait",
Kentaro Kawai of the Puroland Sales Department of Sanrio Entertainment Co.,Ltd., the corporation operating Sanrio Puroland, states, "Halloween is originally an Anglo-American event to celebrate the harvest and ward off bad spirits, but recently in Japan, it has become known as an event associated with cosplaying and is increasingly popular amongst both children and adults. We want our Hello Kitty Land visitors to experience a unique Japanese version of Halloween and be able to enjoy cosplaying with their favourite Kitty Land characters.  This is something only to be experienced here at Puroland."
– Ends –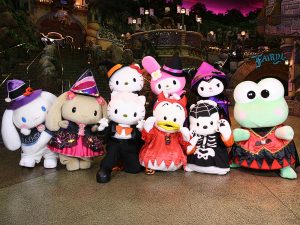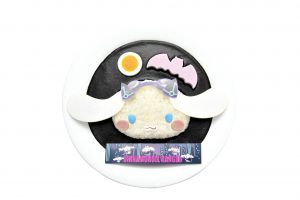 Notes to the editors:
About Sanrio Entertainment / Sanrio Puroland
Sanrio Puroland, operated by Sanrio Entertainment Co.,Ltd, is also known as 'Hello Kitty Land', a theme park to  meet and experience its much loved Sanrio characters including Hello Kitty which enjoys worldwide popularity. Considered the "Mecca of Sanrio characters", the park draws great numbers of fans from around the world.
Located in the outer districts of Tokyo, Sanrio Puroland is an all-in-door theme park visitors can enjoy regardless of the weather. Sanrio Puroland also runs an outdoor theme park, Harmonyland, located in the Oita Prefecture in Kyushu.
More information about Sanrio Puroland is available on http://en.puroland.jp/.
Contact Details for the Media:
Please contact us via Email at (SET@bluemoonmarketing.jp). (English or Japanese)
We also accept requests and adjustments for coverage throughout the year.
Contact information 
Sanrio Entertainment Co. Ltd. Overseas PR Agency
Contact: Maaya Kinoshita / Ayako Noda, Bluemoon Marketing Inc.